WET INK COLLECTIVE'S SCREENPLAY WINTER/SPRING INTENSIVE WITH PEGGY THOMPSON
Due to the amazing success of our first ever Wet Ink Collective Screenplay Intensive we are pleased to offer a Winter/Spring session,  facilitated again by award-winning screenwriter and esteemed UBC Professor Emerita Peggy Thompson (writer of Canadian classics The Lotus Eaters and Better than Chocolate)
This intensive is open to female screenwriters and will run for 10 weeks every Saturday from February 17 – April 21, 2018  10 AM – 2 PM, location Green Thumb Theatre rehearsal halls (5522 McKinnon Street, Vancouver)
The cost is $450.00 (plus $10 membership to Wet Ink Collective if you are not a member already).
Participants will have the opportunity to develop a new script, rewrite an existing draft, or adapt a stageplay to a screenplay. This workshop is not meant for beginners but rather is open to writers with some familiarity with the screenplay format, or to experienced writers transitioning from other genres. The maximum number of participants is 12.
Admission to the intensive is by application. To apply, please submit:
Resume
10-page sample of your screenplay
A cover letter outlining your writing experience, what you hope to achieve with your screenplay, and how you feel this workshop will help your process
Please email materials in PDF format to: wetinkcollective@gmail.com.
We will give special consideration to applications from culturally diverse women, Indigenous women, and women of colour.
Payment will be required to secure your space in the workshop. (If making full payment is an issue, please contact Wet Ink to discuss possible options.
REQUIREMENTS FOR THE WORKSHOP
We ask that participants of the workshop commit to:
attending all 10 sessions
submitting a piece of writing once every 2 weeks
using Facebook and Dropbox (for group communication and sharing of writing) for the duration of the workshop
being an active member by reading others' work prior to each session and providing feedback during the workshop
ABOUT PEGGY THOMPSON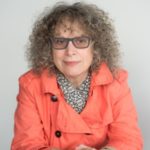 Peggy Thompson is a screenwriter, film producer, story editor and author.
She was the screenwriter of the award-winning feature films The Lotus Eaters and Better than Chocolate and has also written extensively for television – including The Beachcombers, Da Vinci's Inquest and Weird Homes. She was recently Executive Producer on Sharon McGowan's documentary Bearded Ladies: The Photography of Rosamond Norbury which won Best Canadian Documentary at the Female Eye Film Festival.
She was an Associate Professor at UBC for many years where she taught screenwriting in the Creative Writing Program. She serves on the Advocacy Committee of Women in Film + Television Vancouver and is the Program Mentor for their From Our Dark Side Screenplay Competition.
She has also written books, plays and radio plays. For a complete list of credits please visit peggythompson.ca
ABOUT WET INK COLLECTIVE
Wet Ink Collective formed in 2012 as a playwright-driven initiative to help female writers create, develop and produce their plays. We are excited to branch into a new area to meet our members needs and continue our screenplay workshop with Peggy Thompson. To read more about us, please click here.