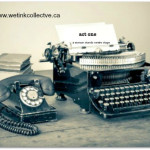 It might seem a bit early to be announcing our Fall 2015 Playwrights Intensives but as spots fill up quickly we are getting the ball rolling now. We will be opening for application the week of July 1st so you have a few days to think about it. To help you make up your mind here's some of Wet Ink's accomplishments in 20214/15 /
Susinn McFarlen's dark comedy, Since You Left Us was produced to sell out houses and  excellent reviews at Presentation House Theatre in North Vancouver, directed by Amiel Gladstone and starring Jillian Fargey, Erla Forsythe, Colleen Wheeler, Mike Wasko, Derek Metz and Mike Gill. It made two Best of 2014 Theatre Lists and received a nomination for Outstanding Performance by an actress for Colleen Wheeler.
Loretta Seto's very funny play Dirty Old Woman, directed by Lynna Goldhar Smith,starring Susinn McFarlan, Emmelia Gordon, Robert Salvador and Alison Kelly was a Pick of Vancouver's Fringe Festival and made the Georgia Straight's Top Ten Fringe shows. It also won the fantastic Cultchivating Award, which means the play is slated for production at the Vancouver East Cultural Centre in 2016.
Beverley Elliot's heartwarming one-woman show …didn't see that coming was a Pick of the Vancouver Fringe Festival and has legs in 2015. It will be presented at the Brackendale Theatre in Squamish and Unity Church in Bellingham in February, the Centennial Theatre in North Vancouver in May and the Gateway in Richmond next November.
Crystal Verge's MOW, Fatal Memories was shot in Vancouver in October for Odyssey Media Inc. with Farhad Mann directing; starring Italia Ricci, Magda Apanowicz and Kevin McNulty. Another MOW, Woman On The Ledge, is currently in development with Odyssey. Her full-length play Caged (formerly titled Saving Gracie) was shortlisted for Nightwood Theatre's National Playreading Festival, Toronto, has a workshop scheduled with Kim Selody at Presentation House and has been shortlisted for Touchstone/PTC/Firehall Theatre's Flying Start Program and we just got the exciting news that Crystal will be seeing her play produced by Presentation House Theatre with the new title For the Love of Gracie.
Liesl Lafferty was hired by Realwheels Theatre to dramaturg their production, Re-calculating. After a couple of workshops, the company decided to commission Liesl as a playwright. She has completely re-worked the project with the original playwright, Lucas Foss. Recalculating will be produced January 22 to 24, 2015, at CBC Studio 700 in Vancouver.
Sally Stubbs had three plays receiving attention. Centurions was a finalist for Nightwood Theatre's National Playreading Series in Toronto where it was workshopped and given a public reading at their New Groundswell Festival; Director/Dramaturg: Kelly Thornton. It will also be presented at the Women Playwrights International Conference 2015, Cape Town, S. Africa with Sally attending as a playwright delegate. And it had a reading at Emerging Voices, Staged Readings of Canadian Plays at Theatre One in Nanaimo with Director/Dramaturg: Nicolle Nattrass. And Bella Sang With Us was published by Scirocco Drama in October. Workshops and readings took place at Firehall Theatre's BC Buds Festival, directed by Sarah Rodgers, and at Girls Gone Wilde Late Night Performance Cabaret at Urban Curvz Theatre in Calgary. Spinning You Home was presented at Suncor Stage One Festival, Lunchbox Theatre, Calgary, Director/Dramaturg: Jacqueline Russell and Interim Artistic Director, Lunchbox: Pamela Halstead.
Rosemary Rowe's play Camp Victoria received its world premiere at Lunchbox Theatre in Calgary in March and was nominated for a Betty Mitchell award for Outstanding New Play. She has an up and coming production of The Good Bride her newest work in Edmonton this coming fall.
Leslie Stark's, play, Eidola a collaborative exploration of Shakespeare's female characters was produced by the Elegant Ladies Collective for the Vancouver Fringe and Leslie and company are gearing up for a new edition in the up and coming Vancouver Fringe Festival.
Barbara Ellison also produced her evocative play, Slumming at The Vancouver Fringe Festival.
Lynna Goldhar Smith's new musical, The World According to GG Silverman was workshopped under the direction of Jane Heyman with a cast of ridiculously talented young professional actors. Now Lynna is busy composing the musical score with Dylan McNulty and Bill Costin and also working on the book of her next musical.
Jill Daum completed a strong first draft of her new full-length play, Forget About Tomorrow and promptly had the first public read through. She recently won the John Moffat Larry Lillo award at the Jessie Richardson Awards in Vancouver.
Barbara Pollard completed a draft of her play  Mother Loving Son and had a reading with Peninsula Productions.
Dolores Drake completed a first draft of her hilarious yet harrowing play, The Distance Between Toronto and Newfoundland and we are looking forward to seeing it at the up and coming Vancouver Fringe in September of 2015 directed by Lynna Goldhar Smith.
And  last but not least we can't forget the BC Buds Festival of New Work where our newest associates– Veronique West, Virginia Gillespie, Kim Seary, Pippa Johnstone,  Rosemary Rowe, Kim Larson,  Dawn Milman, Yumi Ogawa, Yvette Dudley-Neuman- Elissa Vann Struth, Gabriella Klein, CJ McGillivray and  Liesl Lafferty, were invited to present  excerpts from their new work. And Yvette Dudley Neuman by the way was a finalist in the Theatre BC Playwrights Competition winning an honourable mention and a reading of her play The F Words.
Thank you to all who have supported and encouraged Wet Ink and all of this work!  We are devoted to empowering each other to commit wholeheartedly to our writing practices.
Stay tuned for more info the week of July 1st about the Fall Intensives.