c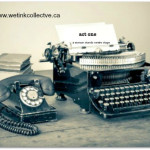 Who can apply for Wet Ink
Emerging  female playwrights, mid career female playwrights or  female theatre artists such as actors, designers, directors etc- transitioning to a dedicated writing practice.
Also female writers  working in another milieu such as fiction or film or children's lit for example who would like to transition to writing for the stage.
During the workshop, writers will have the opportunity to develop new work, or work on an existing piece already in progress.
If you want to learn more about Wet Ink Collective click here
To apply please send us a bio and resume that shows us your theatre background and what you have been doing.  If you don't have a theatre background but have been working in another genre such as film or fiction  let us know about that. Also give us an idea about what you want to work on–your writing goal for this intensive,for example. " I want to work on the second draft of my musical"  Or– "I want to explore my grandfathers World War Two story  in the form of a solo show"  Add any of the ways you think a writing group could help your process.
Please send to wetinkcollective@gmail.com
If you want to read more about Wet Ink Collective click here 
Hurry though- spaces don't stay available long